About GBIC
To push the envelope and accelerate the adoption of energy-efficient technologies and solutions, Research, development and demonstration (RD&D) plays a prominent role in BCA's 3rd Green Building Masterplan.
Guided by the long-term aspiration of "Positive Energy Low-rise, Zero Energy Medium-rise, Super-low Energy High-rise buildings for the Tropics", the integrated RD&D hub, Green Buildings Innovation Cluster (GBIC), was set up under the Energy National Innovation Challenge (Energy NIC).
GBIC serves as a central focal point to reinforce national drive towards greater energy efficiency, as well as to streamline, coordinate, and disseminate building energy-efficiency related activities.
It is a one-stop integrated hub to experiment, exhibit and exchange knowledge of promising energy-efficiency solutions with the industry stakeholders.
Objective
To accelerate adoption of promising building energy-efficient technologies and solutions, bringing them closer to market adoption.
GBIC's 3 core programmes
1. GBIC Competitive Research Programme (GBIC-CRP)

GBIC-CRP serves to drive key research agenda to deepen capability build-up in the focused key areas identified in the technology roadmap.

2. GBIC Demonstration (GBIC-Demo)

GBIC-Demo serves to demonstrate novel energy-efficient technologies that have not been widely implemented in local operating buildings.

3. Super Low Energy Building (SLEB) Smart Hub

Previously known as GBIC Repository, SLEB Smart Hub serves as resource centre with a centralised national database including green technologies, and powerful tools for data analytics.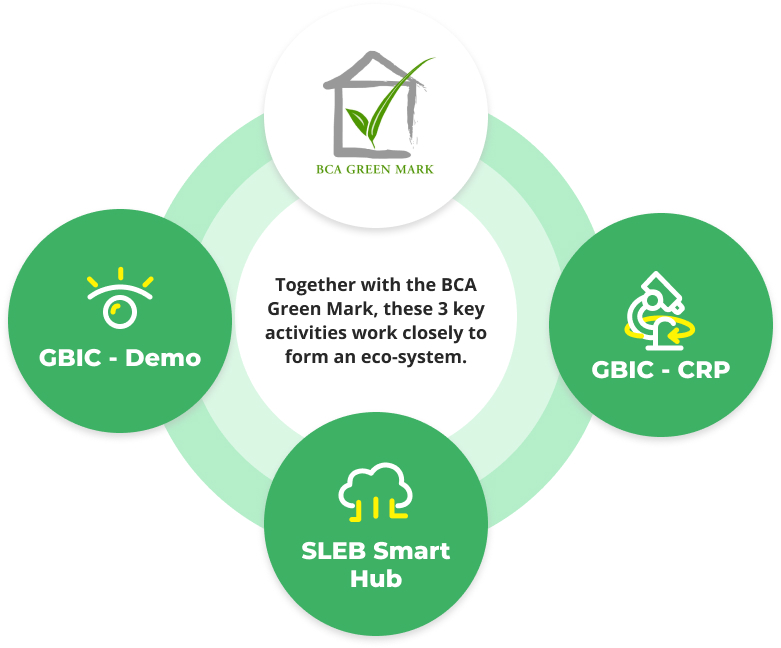 About SLEB Smart Hub
Super low energy building and smart building movement has intensified in Singapore. Building owners and developers are increasingly exposed to novel energy-efficient technologies and products. In many cases, difficulties in acquiring comprehensive information and evaluating the performance of these technologies could hinder building owners from taking action.
BCA rolled out SLEB Smart Hub to address this gap. SLEB Smart Hub makes it easier for building owners and developers to do SLEB projects by providing actionable insights about these technologies, and predicting the cost and benefit of applying them to their buildings.
In alignment with the Smart Nation initiative, we employed cutting edge big data and artificial intelligence for storing and analysing building energy-efficiency. We provide smart services backed by these analysed data. SLEB Smart Hub aim to help building owners and developers source, and adopt innovative technologies.